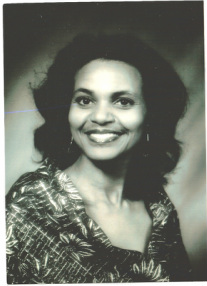 La fé

Fé, voy a tu casa

Alto, grande pero nunca pequeño.

Fé, voy a tu casa

Banco, negro, amarillo, marrón,

Fé, voy a tu casa

¿ Es un edificio, un fuerte o mirarme a mí mismo

Fe, voy a tu casa

Ven , ven a mi casa

Mi casa es tu casa

Fe, tu me conces muy bien


---
Devonna B. Rowe
Performing Artist and Educator
Dr. Devonna B. Rowe, soprano, is a performing artist and educator. The soprano received her DMA in Vocal Performance from Catholic University of America, a MM from the University of North Carolina at Chapel Hill and a BA in Music Education from St. Augustine's University. Additional studies include the Aspen Music School and the AIMS Program in Graz, Austria. Rowe's teachers and coaches include Addison Reed, Martha Flowers, Todd Duncan, George Shirley, Adele Addison, Mary Ruzzika, Fabiana Bravo, Henrietta Lund and Rick Christman. Her career has taken her throughout the United States, Europe, Japan, Russia and Africa. She gave the World Premiere performance of George Walker's "Five Songs for Piano and Voice" during a National Black American Music Conference. She has performed at Eggenberg Palace, Castel Sankt Martin, the National Theater and the John F. Kennedy Center. The soprano has performed with organizations such as the Nashville Symphony Orchestra, the Susquehanna Orchestra and the Columbia Orchestra. A soprano with a versatile and extensive range, her operatic roles include, the Countess in Mozart's "The Marriage of Figaro", Clara in Gershwin's "Porgy and Bess", Mrs. Nolan in Menotti's, "The Medium", "Iolanthe" in Gilbert and Sullivan's Iolanthe, Clara in "Signor Deluso" by Pasatieri, Fiordiligi in Mozart's "Cosi fan tutte", Marcellina in the "Marriage of Figaro" and La
Zia Principessa
in Puccini's Sour Angelica. She performs Musical Theater and works by Latin American and contemporary American composers as well. In July of 2014, Devonna performed Portuguese and Catalan songs at the Barcelona Festival of Song in Spain.
Honors and awards include a music fellowship from opera singer Leontyne Price, the Choral Arts of Washington's Excellence in Arts Education Award, an Excellence in Arts Education award from the Delaware State Teacher's Association, Grants from the Maryland State Arts Council as well as a Governor's Award from the State of Maryland for exemplary service to the community.
With over 30 years as a voice teacher and as an arts educator, Dr. Rowe has taught at the University of North Carolina at Chapel Hill, Blair School of Music/Vanderbilt University, Aspen Music School, Aspen Colorado and Morgan State University. She was a cultural arts representative in an arts program through the White House as an artist in education. A GFO Music Panelist with the Maryland State Arts Council, Rowe is a member of the National Association of Teachers of Singing (NATS), Opera America, SAG and the National Association of Music Education (NAME). The artist continues to write and produce Arts Education programs and to perform as a recitalist, a concert artist and in operatic productions. Dr. Rowe is currently on the voice faculty at Peabody Institute of Music, John Hopkins University. As a certified Health/ Wellness, Yoga and Personal Fitness Instructor she is able to share these skills and knowledge with her voice students. The artist also enjoys writing poetry and reading poetry with friends.
For more information
devonna.rowe@facebook.com
www.historyofsong.com
and
www.latinamericanartsong.com
Copyright All rights Reserved: I hope that you will enjoy singing these songs by Latin American composers however all poems from this website were written by Devonna B. Rowe and are under copyright. The poems cannot be used in any manner without written consent.